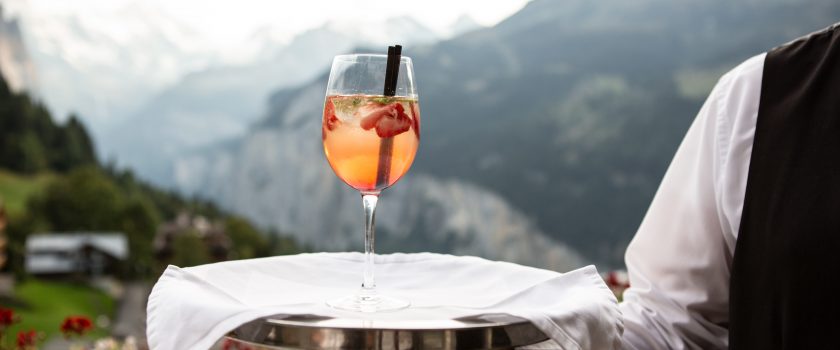 20 Intriguing Hospitality Industry Statistics in 2023
With tourism and traveling becoming a much more accessible luxury, it's absolutely crucial for hospitality businesses to stay on top of the trends. Staying informed about hospitality industry statistics will give you the necessary tools to meet your clients' needs in order for your business to rapidly grow.
Once you know exactly what it takes to succeed in the hospitality industry, you will be able to come up with strategies to elevate your business to the next level. To help you see the big picture, we collected a variety of different statistics.
Let's dive right in.
Fascinating Lodging Industry Statistics (Editor's Choice)
The retail value of the global hotel industry is $147.57 billion. 

There are more than 200,000 hotels in the world.

Wyndham Hotel Group has the most properties in the world.

The owner of Las Vegas Sands is worth $39 billion.

New York is the most expensive city for business travel.

462 million is the number of annual domestic business flights in the US.

1.1 million Americans are employed in the hospitality industry.

62.2% of all US hotel rooms are occupied each day.
Global Hotel Industry Market Size
1. The global hotel industry has a retail value of $147.57 billion.
(GlobeNewswire)
Reaching new heights, hotel industry global statistics show that the market size is currently worth nearly $150 billion. This includes overall revenue combined with market value of global leading hotels.
2. The global hotel industry market size is expected to double in revenue by 2026.
(GlobeNewswire)
Extensive research by Zion Market has projected a steady CAGR of 4.6%. This will boost the hospitality industry statistics worldwide by generating an estimated amount of $211.54 billion by the end of 2026. With the rapid rate in which small to very large hotels are going up, this might increase even more within the following years. 
3. There are more than 200,000 hotels in the hotel industry.
(PhocusWire)
The big question is: 
"How many hotels are there in the world?" 
And here's the answer:
An estimated 200,900 hotels are situated around the globe. These hotels offer almost 18 million rooms. The figure excludes other accommodation providers like motels, bed and breakfasts, backpackers, and hostels. 
4.
The global travel industry is worth $1.6 trillion.
(CondorFerries)
According to global hospitality and tourism industry statistics, the Global travel industry accounts for almost 10% of world GDP. So, 2020 is the perfect time to get involved in hospitality that caters to travelers and tourists alike.
5.
The average hotel room is 325 square feet.
(Fixr)
If you were wondering how big is the average hotel room, the answer is quite surprising. On average, a hotel in the US will have approximately 115 rooms of approximately 325 square feet.
The area will typically include – a bathroom with toilet, sink, shower/bathtub; a bedroom area with a bed, lighting, side tables, and electrical outlets; as well as an area where coffee/tea can be made or a space for a TV set. 
Leading Hotel Companies Worldwide and in the US
6.
According to
hospitality industry statistics,
he Wyndham Hotel Group is the worldwide leader.
(Statista)
Hotel industry statistics show that the Wyndham Hotel Group has the most hotels in the whole world. They have more than 9,000 hotel units ranging from budget and economy to upscale and deluxe. Next in line is Choice Hotels International with 7,045 hotels, while Marriot International comes third with 7,003 properties.
The industry is extremely competitive, which means that these numbers change rapidly throughout the year. In 2018, Wyndham added a whopping 900 properties to ita portfolio.
7. The largest hotel in the world is in Moscow.
(RW Genting)
The Izmailovo hotel in Moscow has a mind-boggling total of 7,500 rooms.
In second place, with 7,351 guestrooms and situated in the capital city of Malaysia, The First World Hotel and Plaza, is massive. With 36 floors (not counting an additional 8 basements), it provides Kuala Lumpur visitors with a variety of budget – luxury boarding. Part of the Resorts World Genting group, this hotel is rated 3-stars.
In a few years, the Abraj Kudai in Mecca, Saudi Arabia, will shoot to first place with a staggering 10,000 rooms. It's still under construction, but once finished it will be known as the world's largest hotel.
Keep in mind that the average number of rooms in hotels is only 332.6!
8. The owner of Las Vegas Sands is the richest hotel mogul in the US.
(Forbes)
With a net worth of $39 billion, Sheldon Adelson is the richest hotel owner in the US. He bought the Sands Hotel & Casino in Las Vegas for only $128 million, not a fraction of what it is worth today. After following hotel market trends, he increased the property price to at least $6.6 billion.
Following Sheldon Adelson is President Donald Trump. Prior to his presidency, Trump focused on Trump International Hotels, which includes properties in New York, Chicago, and Las Vegas. 
Interesting fact: Sheldon Adelson donated $123 million to Trump's campaign in 2018. 
9.
Park Hyatt Hotels are rated the best in the world.
(Reader's Digest)
Park Hyatt Hotels is popularly known as the future of hospitality. Hyatt opened its first hotel in 1980, the Hyatt Regency in Maui. The company has shown rapid growth, and by the end of 2019, it has 627 hotels globally.
The Park Hyatt and Grand Hyatt brands are the highest rated hotel groups in the world. Not only do they provide guests with luxurious accommodation, but they also offer a variety of activities and experiences.
Short on the Hyatt's heels are Hilton's 15 hotel chains. With more than 5500 hotels globally, the Hilton is a top-rated brand. It has a variety of luxury resorts and embassy suites that give visitors an exquisite lodging experience.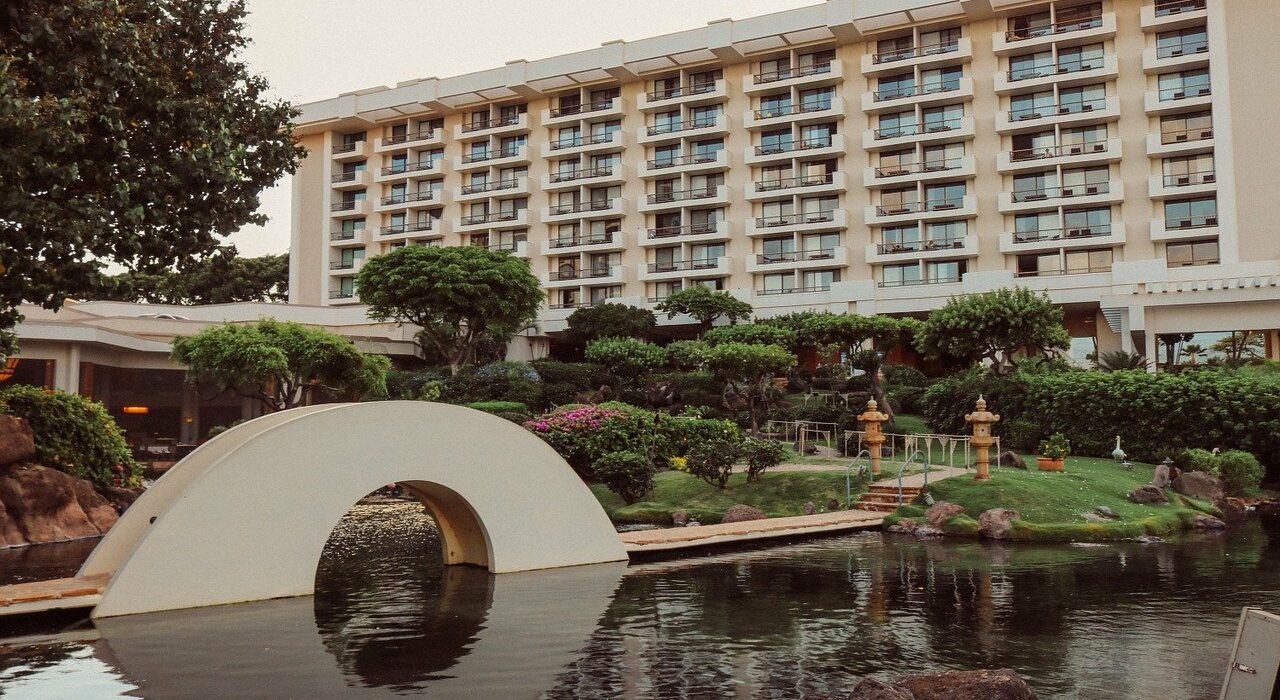 Business Travel Worldwide
10. New York charges $799 for business executive travel per day.
(CNN)
Global hospitality industry statistics have shown that business travel can be much more expensive than backpacking or traveling with a family. A traveling executive can plan to spend at least $799 per day in the Big Apple. 
The second priciest business travel location is Geneva, Switzerland, with an average of $716 per day. In third place is another Swiss city, Zurich, with an estimated expenditure of $661. 
11. In 2019, there were 462 million business flights in the US. 
(TravelPerk)
This number is forecast to increase to a whopping 499.5 million by the end of 2022. Given the affordability of local flights, meetings for companies from all over the States can be hosted in one location.  
12. Brits spent $50 billion on business travel in 2017.
(TravelPerk)
Hospitality industry statistics in the UK show that Brits spend big time on business travel. Thanks to its famous beach and close proximity to London, Brighton has become a popular hub for business people traveling from Europe and other parts of the UK.
13.
The
average cost of a one-night stay in a motel is $45-$100.
(Skyscanner)
The average cost of motels in cities is pretty reasonable. Naturally, it will vary depending on which city you are staying in. For comparison, a one-night stay in a business hotel will set you back around $150-$200.
Employment Within the Hospitality Industry
14. 1.1 Million Americans are employed in the hospitality industry.
(US Bureau of Labor Statistics)   
Hospitality industry job statistics in the US show that, as of June 2019, over 1,142,000 individuals were employed within the hospitality industry. This includes restaurant services, accommodations, and recreational entertainment and activities.
Since June, job openings decreased with 81,000. And with a total of 101,000 layoffs and job resignations, one might wonder how happy are employees in the industry? 
15.
Competitors create the biggest problems for hospitality business owners.
(Impos)
According to recent hotel business stats, 73% of hospitality owners claimed their competition has been growing rapidly with each passing month, resulting in revenue loss. One big blow is the rising platform airbnb, as statistics show that travelers are frequently using it.
Staying on top of the 2020 trends is the only way your business can compete with modern hospitality businesses. 
16.
54% of restaurant managers work 50+ hours each week.
(Statista)
Clearly, there's no time for rest when you work in the hospitality industry. Most employees have to work on weekends, during holidays, and at night. 
According to restaurant industry statistics, 36% of waiters and 44% of bartenders work a total of 39 hours per week.
54% of restaurant managers, 31% of business operators, and 28% of chefs work more than 50 hours per week.  
Running around the clock, 1% of fast-food servers, 3% of waiters, 6% of dishwashers, and 9% of restaurant hostesses work an average of 50+ hours per week.
Occupancy Rates and Travelers Statistics
17.
Spending on travel in the US has grown from $500 Billion to $1,000 billion.
(Statista)
Americans really love zipping around. This is evident in the way they spend their money. The estimated spending on travel in 2000 was $585 billion. Fast-forward to 2018, and Americans ended up spending an astonishing $1,037 billion on domestic and international travel.
With numbers like these, the travel and hospitality industry is estimated to grow even more rapidly in the years to come. 
18.
62.2% of US hotel rooms are occupied each day.
(CreditDonkey)
Nearly two-thirds of the thousands of rooms that are available for people traveling around the United States every single day, hospitality industry statistics reveal! 
Compare this to Turkey with an occupancy rate of 67.6%, Europe with an occupancy rate of 72.2%, and the tourist city Istanbul with an occupancy rate of 65.7%.
Other countries like South Africa have an occupancy rate of 59.2%.
19.
Hotel trends 2020
include an eco-friendly environment.
(HotelNewsResource)
Millennials are at the forefront of 2020 hotel trends. For any hotel to attract millennials, the focus needs to be on using more sustainable products. Going green will keep your hospitality business growing.
Other trends include whether your service is social-media-friendly. In other words, something about your property has to be photo-friendly. Furthermore, travelers are looking for exclusive experiences in cities, villages, and towns that are off the beaten track.
20.
Almost $100 of revenue is made per room in the US.
(STR)
By Q3 2019, the US hotel industry revenue statistics have shown that, at an average daily rate of $133.25, a hotel room will generate a revenue of $94.42.
During this period, the US hotel industry reached the highest revenue quarterly rate in history, with a total revenue of $46.5 billion.
Conclusion
The latest hospitality industry growth statistics suggest the market remains on the up. With property developers building hotels around every corner, the hotel business is booming. Traveling has become almost second nature, whether it's for leisure or business.
What's more:
Hospitality industry statistics prove that more people than ever are traveling across the globe and staying in motels, hotels, resorts, and hostels. With a global net worth of $147 billion, the hospitality industry is an open door for opportunity. Following 2020 hospitality industry trends, more individuals will be looking for exclusive attractions that are culturally all-inclusive and eco-friendly.
Bottom line:
Hospitality is growing at a high percentage. And success is likely to come your way as long as you stay trendy.